Nowadays, the Netherlands is one of the most popular job relocation destinations among software developers and IT professionals. A recent poll in our Telegram channel has shown that every third international job seeker is ready to consider this country as a work abroad location. If you are one of them, this guide collects everything you need to know before moving to the Netherlands for work.
Contents
What is the Dutch Tech Scene Like?
The Netherlands is Europe's most wired country with excellent digital infrastructure, innovative and open economy, R&D incentives, and strong governmental focus on advancement in technology, which attracts top companies and startups around the world. Amazon and Google, Facebook and IBM, Microsoft and Apple, Netflix and Cisco located their offices in Amsterdam, Rotterdam, Utrecht, and Eindhoven, offering a great variety of workplaces and opportunities. Moreover, the Netherlands is home to a flourishing tech ecosystem — in 2020 alone, Dutch startups raised $1.4 billion in venture capital funding. The country is also one of the top five nations in Europe by the number of startups per capita. This means that the Netherlands is a beneficial environment for startups and top companies and is also a source of interesting and challenging projects for IT professionals.
Information Technology & Services is a top industry for emerging jobs in the Netherlands. Software engineers and web developers are two of the five top key skills in demand in this country.
How to Find IT Jobs with Relocation Packages
The Netherlands is facing a huge shortage of ICT specialists; that is why it is natural that tech companies are actively hiring tech talent from abroad. Some of the most prominent among them, which are based all around the Netherlands, are listed below:
As we've already explained in detail in this guide, most job search websites have no filter for relocation, but using keywords like "relocation" and "visa sponsorship" in conjunction with the target job title in the search bar does a good job at filtering search results.
Alternatively, simply use Relocate.me. We offer IT jobs with verified employers who are ready to help out with your move, not to mention tons of useful information best preparing you for relocation. New jobs are being added to the website every week.
Also, make sure to subscribe to our Telegram channel to always stay up to date on the latest available international job opportunities, relevant news, relocation stories, and more.
Obtaining a Work Permit in the Netherlands
Foreigners who wish to work in the Netherlands, in most cases, need to apply for a work permit. Only workers who are from the European Economic Area or Switzerland are permitted to work without it. If you are a non-EU citizen, you can apply either for a Highly skilled migrant residence permit or for the EU Blue Card.
To be eligible for the Highly skilled migrant residence permit, you must meet several conditions, such as working in a high-level position, have an employment contract with a Netherlands-based employer, and meet the salary criteria:
​Highly skilled migrants 30 years or older — ​€4,752 gross per month
​Highly skilled migrants younger than 30 years — €3,484 gross per month
Your employer should also be recognized as a sponsor by the Dutch Immigration and Naturalisation Service (IND). Here you can check whether your target company is on the IND list or not. Depending on your nationality, your recognized sponsor (employer) may also need to apply for a long-stay entry visa (MVV) for you. You can read more about the Highly skilled migrant residence permit on the IND website.
To be eligible for the EU Blue Card, the following set of conditions should be met:
A valid work contract or job offer of at least one year
The salary should be ​€5,567 gross per month minimum (as of July 2021)
Completed post-secondary higher education of at least three years
The EU Bue Card permits mobility within the European Union after 18 months of residence in the first member state and allows you to move to another EU member country for highly qualified employment. The Dutch highly skilled migrant permit is limited to the Netherlands. On the other hand, higher education is required only for the EU Blue Card, while this is not the case for the Dutch highly skilled migrant permit.
Until recently, the number of EU Blue Cards issued in the Netherlands has been very limited since most employers choose to apply for the Dutch Highly Skilled Migrant visa. On a side note, Germany issued around 80% of all Blue Cards in the EU in 2019.
After five years of legal and continuous stay in the Netherlands, both the EU Blue Card holder and the highly skilled migrant, as well as their family members, may qualify for a permanent long-term residence permit. This permit allows you to stay in the Netherlands indefinitely and gives you more freedom in the labor market.
Software Engineer Salaries in the Netherlands
Like in any other country, salary offers in the Netherlands depend on many factors, including the age of the company, its financial performance, your experience level, and your skill set. In general, software engineer salaries in the Netherlands range from €30,000 to €70,000 per year with bonuses, according to LinkedIn. The most recent developer salary report by Honeypot states that, on average, aspiring developers in the Netherlands make around €39,000 per annum. Salaries of senior-level developers typically range between €50,000 and €80,000.
Taxes in the Netherlands
There are three main types of taxes in the Netherlands:
Income Tax
Everyone who works in the Netherlands has to submit a yearly tax return and pay this tax on their income. There are three types of taxable income, so-called three boxes, each one of them has its tax rate. The individual tax rate depends on the total income in all three boxes.
Box 1: income from profits, employment, and homeownership. Income of €0-€68,507 is taxed at 37.1%, while earnings over this limit are taxed at 49.5%. It is a progressive tax rate; therefore, the higher your income is, the more you have to pay.
Box 2: income from substantial interest, which is taxed at 26.9%
Box 3: income from savings and investments, which is taxed at 31% maximum. Taxpayers enjoy €50,000 of tax-free capital limit. 
Payroll Tax
Payroll tax is taken by the employer from an employee's salary and consists of tax on your salary, national insurance contributions for pensions, unemployment allowance, and other Dutch benefits and allowances. Those contributions, taken from the salary by the employer, save employees from the need to pay them later as income tax. You can read more about it in this article.
VAT Sales Tax
VAT sales tax, known as BTW, is sales or revenue tax, which all businesses add to the price of their products and services. There are three levels of this tax; 0%, 9%, and 21%. The 9% tariff is added on food and drinks, agricultural products, medicines, and books, while 21% is charged on all other goods and services (from education and healthcare to financial and insurance services).
The 30% Tax Ruling
One of the attractive features of the Dutch tax system is the 30% tax ruling for highly skilled professionals who are moving from abroad if they meet several criteria like minimum salary requirements and scarcity of their area of expertise. If you qualify for this ruling, only 70% of your salary is taxed for the first five years of living in the country, and you are exempted from paying Box 2 and Box 3 taxes (except for shareholding and real estate tax). Although 30% is a maximum tax ruling, it can also be less depending on different factors. The 30% tax ruling is given only once in five years and can be applied only by one employer to one specific employee; therefore, if you change your workplace, a new employer will have to reapply for a tax ruling for you. In addition, your employer should give you a non-taxable allowance that fully pays for your children's international schooling. 
You can quickly estimate your approximate after-taxes paycheck in the Netherlands by using this calculator.
Cost of Living in the Netherlands
As a capital, Amsterdam can be quite an expensive place to live, while the Hague and Rotterdam offer a cheaper cost of living. Naturally, the prices in smaller cities, Eindhoven and Hoofddorp, are slightly lower. It costs around €930 to live in Amsterdam before rent, including transportation and eating out, Rotterdam costs around €800, and the Hague around €750. It should be kept in mind that those numbers are approximate and that the increase in price equals a high standard of living. Rental prices in non-urban areas are more affordable than the ones close to the city center.
Apartment rental prices in Amsterdam vs. Rotterdam:
One-bedroom apartment in the city center: €1,500-€2,000 vs. €1,200-€1,500
One-bedroom apartment outside of the city center: €1,300-€1,750 vs. €900-€1,300
Three-bedroom apartment in the city center: €3,000-€6,000 vs. €1,900-€2,500
Three-bedroom apartment outside of the city center: €2,500-€3,000 vs. €1,300-€2,000
The monthly cost of utilities and internet for an 85m2 apartment is between €210-€250 in Rotterdam in comparison with €230-€300 in Amsterdam.
Apartment rental prices in Eindhoven vs. Hoofddorp:
One-bedroom apartment in the city center: €1,200-€2,000 vs. €1,600-€1,900
One-bedroom apartment outside of the city center: €980-€1,200 vs. €1,650-€1,900
Three-bedroom apartment in the city center: €1,600-€2,000 vs. €1,500-€2,000
Three-bedroom apartment outside of the city center: €1,300-€1,900 vs. €1,250-€1,700
Utilities and internet costs for an 85m2 apartment are around €200-€250 in both cities. You can also have a look at the approximate prices of food on websites like Numbeo.
Note: In this article, we've compiled a collection of Facebook groups and sites that will help you find housing in the Netherlands, along with some basic information that you need to know about the housing market in this country.
While taxis are expensive in the Netherlands, public transport is efficient and can get you anywhere you want. Purchasing OV-Chipkaart is a good investment as one ticket gives you access to all means of transport. 28% of all trips in Holland are done by bicycle, especially in Amsterdam and the Hague up to 70% of journeys are done by bicycle, which makes this mode of transport worth considering. Owning a car in the Netherlands is not necessary due to a well-developed public transportation system. Also, the Netherlands offers a broad choice of low-cost transportation that could take you anywhere you want in Europe, which is a great advantage.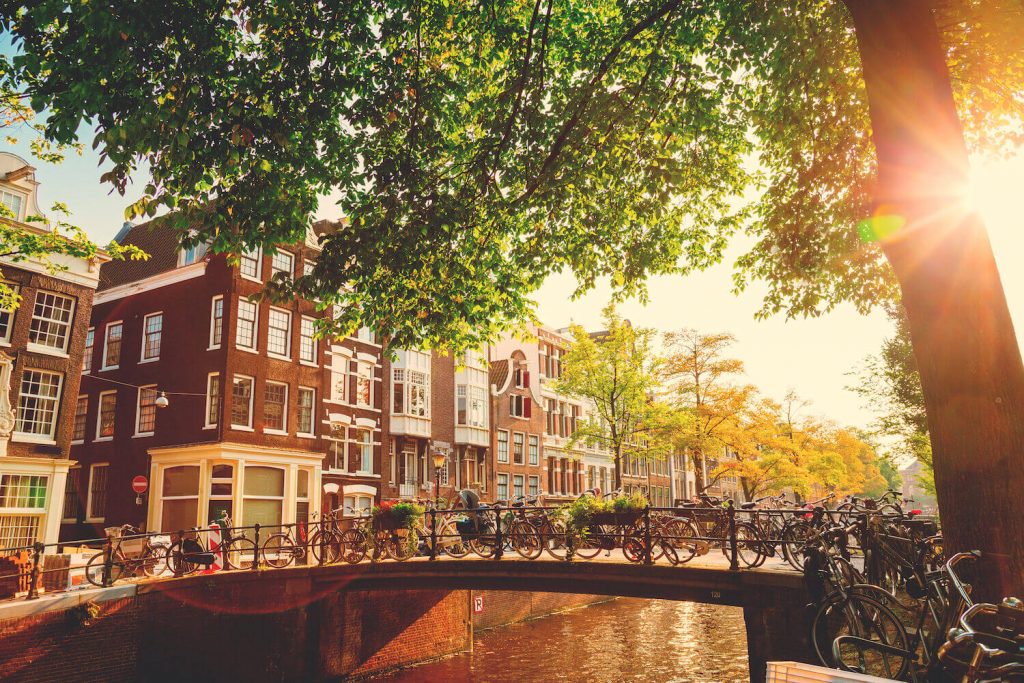 Work-Life Balance in the Netherlands
According to the OECD's Better Life Index, the Netherlands ranks top in terms of work-life balance. Only 0.4% of employees work very long working hours, which is the lowest rate in the OECD, where the average is 11%. An average Dutch working week is 38 hours, with the majority of full-time positions working between 36-40 hours a week. Therefore, overtime work is rather an exception than a rule in the Dutch employment market, with a healthy work-life balance being a priority for both employers and employees. The legal minimum number of vacation days is four times the amount of working days per week, which is 20-25 days per year in addition to 10 public holidays.
The Dutch work-life balance culture is the best representative of Europe, which contrasts with the American culture of workaholism and chronic overwork with just 1-2 weeks of paid vacation per year. It takes up to 10 years of work to earn your way up to 4 weeks of paid holidays in the US. Therefore, the Netherlands attracts a lot of talent thanks to its healthy approach to work as well as its balanced working culture.
Language
Although it is always better to learn some language basics of the country you are moving to in order to fully integrate into it, the recent English Proficiency Index ranked the Netherlands first when comparing the English skills of 100 non-English speaking countries. The EU's most recent report informs that 90% of the Dutch population speak English, which is impressive. Dutch people easily switch to English if they see that someone doesn't understand what they are saying.
Healthcare
The Dutch healthcare system has been ranked in the top 3 for a few years now on the basis of the Euro Health Consumer Index, which ranks systems based on waiting time, results, and generosity. Moreover, it's the only country that has stayed in the top 3 consistently since 2005.
Purchasing private health insurance is compulsory for everyone, and basic insurance should be purchased within four months of arrival to the country. There are two forms of insurance in the Netherlands:
Zvw — basic insurance that covers common medical services (includes GP, specialist services, medication, and maternity care). It costs around €100-€110 per month (fixed price no matter the age, gender, or existing medical conditions).
Wlz — covers long-term nursing and care treatment.
Children under 18 years old do not pay premiums for basic insurance and are insured automatically. In addition, temporary residents from the EEA are automatically covered if they hold a European Union Health Insurance Card.
How to register for healthcare in the Netherlands?
First, you have to register with a health insurance company for which you have to provide proof of residence in the country, an identification document, and a confirmation of your employment from your employer. After registration, your health insurance will be valid from the moment you pay a premium.
Education
If you are moving with children, the good news is that public education in the Netherlands is free. Bilingual schools are common, especially at the secondary school level, where 30-50% of curricula are taught in English, and there are adaptation programs devised for students that do not speak Dutch. Still, if the knowledge of Dutch may be an issue for your child, it is better to look for private international school options since Dutch is still broadly used in these schools. The price of education there ranges from €12,000-€24,000; however, some schools are subsidized by the government and cost €3,600-€6,000.
Children start primary school after they turn four years old and stay there for eight grades until they are 12. Here, they gain basic skills such as reading, arithmetic, and writing. Once children enter secondary school, they have to make a choice, which educational path to take:
VMBO (preparatory secondary vocational education) — a 4-year vocationally oriented direction focused on practical knowledge, which is followed by vocational training.
HAVO (senior general secondary education) — a 5-year program that prepares students for higher education in universities of applied sciences, where they can attain a Bachelor's degree in applied sciences.
VWO (university preparatory education) — a 6-year program that focuses on theoretical knowledge and prepares students for a Bachelor's degree in a research university.
In higher education, there is a division between Research and Practice-based programs. Research-based programs develop analytical thinking, understanding of abstract concepts, and the ability to ask questions. The graduates of such programs do not have definite professions, and their typical careers are in the field of research, management, and administration. In comparison, training in Practice-based programs provides a clear occupational path and emphasizes practical application of gained knowledge. Tuition fees range from €6,500 to €12,000 per annum for international students from countries outside the EEA area and €2,083 for EEA nationals. The cost of a Master's degree can vary from €7,700 to €18,750 for non-EEA nationals.
Which City to Choose for Relocation?
Amsterdam
Amsterdam is the harbor and heart of The Netherlands, known for its historical attractions, vast art collections, endless canals, and for the special flavor of its old parts, which have been preserved well. The spirit of openness and tolerance is combined with a tradition of innovation. Amsterdam is the connector of Europe, uniting various destinations with one of the biggest airports in the world, Schiphol airport. Moreover, it is also a significant economic center with major companies like Tesla Motors, Nike, and IKEA, locating their offices here and offering a great variety of employment opportunities. With 93% of the Dutch population speaking English fluently in Amsterdam, you may be sure that you will understand and be understood here easily.
The Hague
The Hague is considered to be a political center of the Netherlands since it is a seat of the Dutch government and as "The City of Peace and Justice" is a home base to 130 international organizations in the sphere of peaceful administration like Europol, Eurojust, the United Nations. Therefore, the city attracted over 300 international companies, with Shell, AEGON, KPN being among the biggest. On the other hand,  the Hague is the largest city by the sea in the Netherlands, and the greenest city in Europe, so natural beauties attract many migrants to stay in the Hague.
Rotterdam
Rotterdam presents a fresh view of the Netherlands with youthful architecture and urban design, partly because it was completely rebuilt after World War II. It is also the largest port in Europe, which unites great opportunities in the shipping, trade, energy, and logistics sectors. Beyond the fact that Rotterdam is home to diverse street food markets and advanced cafe culture, the city can boast with excellent transport system with great trams, buses, and metro connections. Moreover, the city has excellent rail links with the rest of Europe, and with Amsterdam's Schiphol Airport just an hour away, all destinations are in the palm of your hand.
To sum up, the Netherlands is a unique relocation destination that offers a very beneficial environment for IT specialists with a 30% tax ruling, excellent work-life balance, and outstanding standard of living. If this article inspired you to consider the Netherlands as your work abroad spot, be sure to check out our list of available tech jobs in Amsterdam and other Dutch cities. All of those roles come with relocation assistance!