The UK, London especially, is a popular destination for software engineers to find work. Many major tech companies call London home, and it's also a magnet for many of Europe's promising startups. There's a lot to love about living in London: world-class universities and schools, many talented people in all fields, and lots of cultural diversity. The capital of England is a popular target for relocation for many people in tech for all these reasons.
Our team recently spoke with Mahdi, who found a job as a Tech Lead in London through Relocate.me. We hope to guide and inspire you with this recap of our conversation if you're interested in moving to the UK to work in the tech industry.
Here we go.
Mahdi's background
Home country: Iran
Tech experience: 15+ years
Current tech stack: .NET, Python, and Go
Passions outside of work: Fintech and cryptocurrencies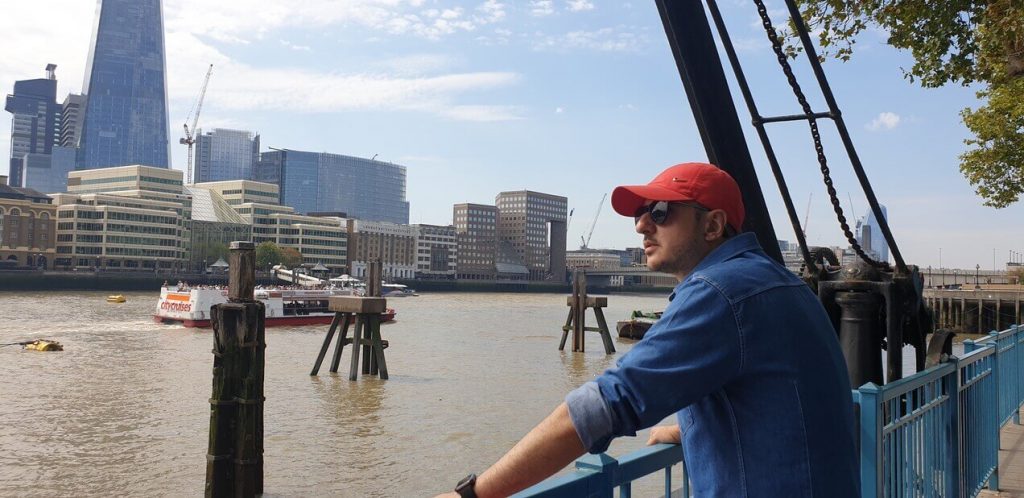 Why did you choose London as your destination for working abroad?
I had friends in the UK, and another advantage was that my family and I already spoke English so we didn't need to struggle with learning another language along with all the other pressures of moving.
You found your job in London through Relocate.me—how did the site help with your search and move?
Relocate.me is specifically designed as a job board for IT jobs that provide assistance for relocation. The site also has a lot of resources about relocation, which are very helpful. It made the whole process easier.
You're working as a Technical Lead at Candesic. Can you talk about the interview process for this position?
I went through four rounds of interviews in total. First, there was a screening interview, which let me learn more about the position. Then I interviewed with the managing partner at the company, which was a general interview to determine whether I would be a good fit for the company and the position. After that, I met with some of their tech people to assess my skills and experience more directly. Finally, I met with the managing partner again to finish the deal.
What did you have to do to get a UK work visa?
To immigrate to the UK for work, you need a Skilled Worker visa [formerly a Tier 2 General work visa]. To get one, you need to have a job offer from a company in the UK that has a license to sponsor you. After you get a job offer, the company will apply for a Certificate of Sponsorship (CoS) from the Home Office, which can take up to a month sometimes. Then the company will get you the CoS information and their sponsor license number, and then you can apply for the work visa. You can do the whole thing online, including payments, through the UK's government site. Your dependents, your family can get the same visa as part of your application.
There are two fees that you have to pay:
The

IHS fee

, which is for healthcare, and when I applied, it was £470 per person per twelve months.

The

Visa fee

, which depends on the length of time you're applying for. That's part of the CoS that you'll get from your sponsor company. The fee for the UK can be pretty expensive, especially compared to other countries. I had to spend about £1,200 per person.
You'll need a credit or debit card to pay those fees online, though the sponsor may pay for it as part of their relocation allowance, so it's good to discuss that with them.
After you submit your visa application online, you'll get an appointment to go to the Embassy [the British Embassy, or VFS Global] to bring in your documents and do the biometrics. My appointment in Tehran was about four weeks after I submitted the application. Doing everything there took about an hour. Then I got my passport with the visa two weeks later.
The visa gives you a one-month entry window. Once you get to the UK, you need to finalise your residency by registering at the police station and getting your Biometric Residence Permit (BRP). You get all the info about that when you get your passport and visa. Your BRP card is essentially your visa that you'll need to have when you travel outside the UK.
NOTE:
As Mahdi mentioned, one of the requirements for a Skilled Worker visa is having a job offer in hand from an approved UK employer. Visit this link for a list of organisations that are licensed to sponsor workers for this visa. Use the search feature to see whether your target company is on the list.
What relocation assistance did you get from your employer?
My employer covered all of my visa expenses, as well as my flight. I had to find a flat here in London on my own.
How long did it take to actually move after you accepted the job offer?
It was about three months. I could have moved sooner, but I had some things I needed to wrap up in my home country first.
How difficult is it to find an apartment for rent in London? Are most rentals furnished or unfurnished?
It can be a bit difficult, since Greater London is a big area, and flats in central London are really expensive. When you don't know what areas in Greater London to look in, and you're trying to be close to a good school, or anything else you're looking for, it can be frustrating. I ended up with an unfurnished flat, but there were also furnished ones available.
What are the best websites for finding rental properties in London?
The easiest way to find a place in London is with online portals like Rightmove or Zoopla. It's all dependent on your budget and where you want to live. There are nine zones in London that go in concentric circles getting further from central London. The closer to zone 1 (central London) you want to be, the more you'll have to spend. It can be a bit overwhelming but once you know what area you're interested in, it's easier to narrow it down, and those online portals are definitely helpful for searches.
Once you find a place, contact the local council authority to let them know your new address, and they'll issue a council tax bill, which you can use as proof of address. You'll also need to notify the police of your change of address within seven days of your move. All you'll need to do is go to the nearest police station and your BRP card, along with the registration certificate you got from the police when you first arrived.
NOTE:
Finding a property to rent in England is pretty much the same across the country. While it is possible to rent directly through landlords, many prefer to use a third party as a middle-man of sorts.
There are a few things to be aware of when renting in London. The first is that most properties will require a security deposit upfront. This will typically be 4-5 weeks' rent and legally cannot exceed five weeks' rent (unless the annual rent exceeds £50,000). These deposits are usually returned at the end of the tenancy, providing the property is in acceptable condition.
On top of the 4-5 weeks' deposit, the landlord will likely expect the first month's rent upfront as well, though some may even want two months' rent!
After the initial deposit and rent payments are sorted, it will just be a monthly payment of the agreed-upon amount. Depending on the tenancy agreement, this will either continue for the contracted time period (typically 6-12 months) though some operate on a rolling basis.
These rolling contracts usually have a minimum term of about six months and then just continue on a monthly basis until notice is handed in or another circumstance requires tenants to move out. And just about every contract has a minimum of one month's notice if the tenant intends to leave the property (unless otherwise stated in the contract!).
This article from the UK's citizen advice service goes into more detail on what costs may come with renting.
When it comes to finding the right property, London boasts a variety that can range from furnished to unfurnished. Even unfurnished properties may include curtains, white goods (i.e., fridge, freezer, oven, etc.) and sometimes sofas and beds.
So it is incredibly important to clarify what furniture comes with the flat before signing the tenancy agreement.
How much does it cost to rent an apartment and cover utilities in London? Numbeo puts the average cost of rent for a one-bedroom apartment in downtown London at £1,700.
That sounds about right for central London. It gets more affordable if you go elsewhere in Greater London. I was able to find a two-bedroom flat for under £1,300, and it costs around £150 for council tax, £80 for utilities, £30 for Internet, and £25 for mobile.
NOTE: 
The cost of living in London greatly reflects why the city has higher wages. Being the capital of England, London's properties often have a higher price tag, regardless of whether they are being rented or bought. That being said, the cost of living will vary depending on the area or borough you choose.
The more expensive areas, such as Kensington, Mayfair or Chelsea, can easily set renters back £1,000-£2,000+ a month, and that is before any other bills such as utilities, internet or groceries have been paid. This is partly due to the properties themselves and other factors like their central location within the city.
However, if longer commutes are okay, there are cheaper areas, such as the London borough of Bexley, where properties can be found with rent which is closer to £1,000.
After rent, there are the general bills. The three main utilities which British households use are;
Water: the average water bill is about £35 per calendar month.

Electricity: an average of £56 per calendar month, but this can easily be more or less expensive depending on how many electronic devices in the property.

Gas: gas will cost about £50 per calendar month.
Most energy companies will charge the gas and electric bill together but break them down separately. (E.g., the bill will be charged as £100, but itemised as £60 electric and £40 gas). It is also quite easy to reduce the cost of these bills by making small changes.
For example, some houses offer a central heating system that uses gas to warm the home. By opting for warmer clothes and turning the heating off, it is possible to lower this cost.
Then there are internet costs which, according to Numbeo, average at £30 per month. In England, most broadband providers also offer a variety of cable TV packages; these will bump up the bill, though! 
In England, there is also a charge known as a TV license which is just over £12 a month, and anyone with access to live TV or the BBC and its channels is required to pay by law.
You can easily compare different UK broadband and TV providers, gas and electricity suppliers, mobile phone deals, and more by using sites like Uswitch.com.
As for groceries, the average food bill costs around £200 per person per month, which is pretty standard across England and depends more on personal shopping habits than the area in which a person lives.
What's the average software developer salary in London?
Developer salaries are usually above £60,000, which is good.
NOTE:
According to the feedback from one of the Reddit users working at a mid-stage startup in London, software engineer salaries range from £30,000 to £115,000 per annum, depending on experience.
What percentage of your salary goes to taxes?
25%.
NOTE:
In England, higher salaries will mean higher tax rates.
Of the various types of tax the British pay, the largest by far is income tax. This is money that is deducted from a person's paycheck by 'Her Majesty's Revenue and Customs' (commonly known as HMRC) before it even hits their bank account. This total is worked out by taking a percentage of your salary or predicted earnings depending on which tax bracket they fall in.
England's tax brackets can be slightly confusing; most people are given a 'tax-free allowance' of about £12,500. Though the amount may differ on an individual basis, the concept surrounding it is the same; there is no tax paid on the first £12,500 (or whatever the amount of the personal allowance is).
After the personal allowance, workers are expected to pay 20% on anything earned up to £50,270. This then increases to 40% on any income between $52,271 and £150,000. And if you are lucky enough to earn over £150,001, you would pay 45% in tax.
So applying this to the average software developer salary in London provided by Indeed—£58,475 per year— income tax would look something like so;
0% on the first £12,570

20% (£7,540) on the next £37,700

40% (£3,282) on the next £8,205
The government has made it easy for you to try and work out your income tax by offering an income tax calculator. And here's one more easy-to-use calculator to quickly estimate your after-taxes paycheck in the UK.
Another form of tax that UK residents are charged is National Insurance; this is what funds the UK's health system known as the NHS (which is discussed more further on!). Similarly to income tax, this payment is taken out before you receive your paycheck and varies depending on how much you earn.
National insurance is charged at 12% on earnings between £184.01 and £967 (per week). And then earnings of £967.01 or more a week are charged at 2%. With an average software developer salary of £58,475, that is about £400 a month.
The last form of tax which people living in the UK pay is council tax. This is a monthly bill that is paid to the local councils. Council tax is what funds any local renovations, projects, garbage collections, etc. 
How much council tax a person pays depends entirely on the property they live in. In London, this can range from a few hundred pounds per month to over £1,000, depending on the property and the area. If you head over to the UK's government website, you can find a calculator to approximately determine how much the council tax will be.
England also has a few other types of tax which people pay, such as;
Consumers tax (VAT): this is typically included in the total cost of items. It is usually stated whether or not VAT is excluded from the price, so you will know before reaching the checkout!

Excise duties on alcohol and tobacco.

Vehicle tax: all cars in the UK must be taxed, insured and MOT'd in order to be road legal.

Corporation tax: charged on company profit.

Stamp duties: tax when buying houses or shares.
The last two may be less applicable to most people, especially when first relocating to England. However, they are still good to be aware of, especially if you intend to start your own business or buy a house in the future!
Can you tell us a bit about public transportation in the UK?
Well, I live and work in London, so that's really the only information I can share. In London, there are buses, underground and overground, trains, ferries, and more. The best way to pay for public transportation is to get an Oyster card and top it up whenever you need to. You can also use a contactless debit card or credit card, and the rates are the same. The buses are the cheapest, but they're also affected by traffic, which can be quite bad sometimes, so it's slower than the tube or trains.
One way to save some money on a daily commute between two zones of London is with a seasonal Travelcard.
You can also take the famous black cabs, and apps like Uber, Gett, or Kapten are also available.
London has nine zones that are concentric circles expanding from central London outwards.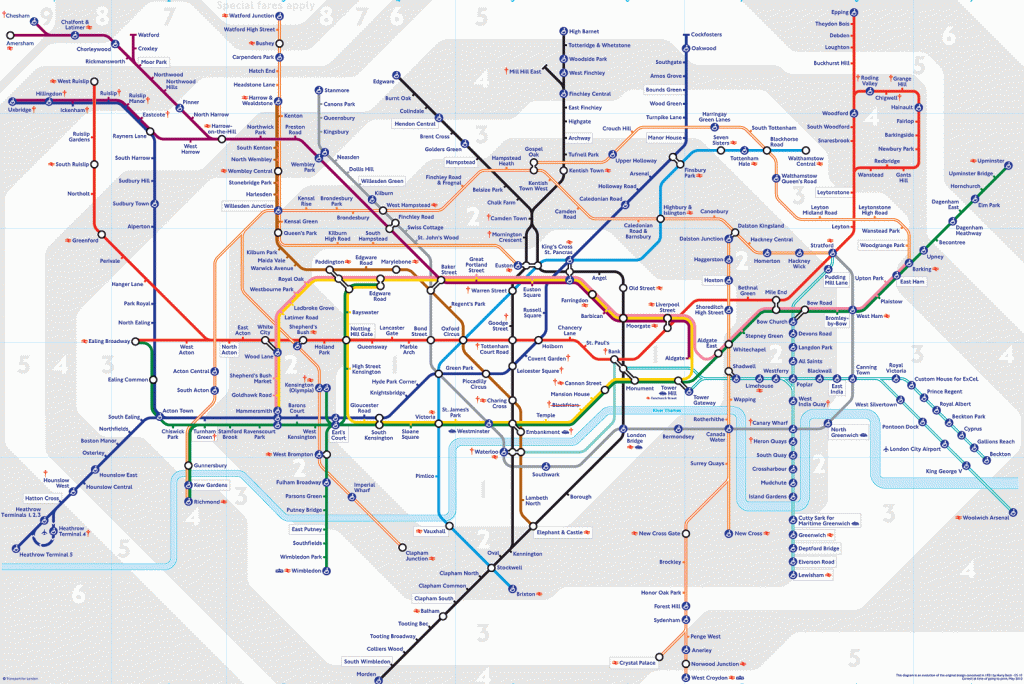 Google Maps and Citymapper are helpful for finding routes, and you can also get updated information about the schedules on your phone. 
London is also bike-friendly, and you can rent a bike or scooter from different services (e.g., Lime or Santander Cycles).
This website offers a comprehensive guide to getting around London.
How difficult is it to open a bank account in the UK?
You'll need proof of address as well as the usual ID documents that banks typically ask for. Bank statements usually count as proof of address, but of course, if it's your first account thereafter relocating, that won't work! The address requirement means that you'll need to be established in your house or flat, so if you're not settled yet, it can be tricky. My solution was using Monzo, an electronic bank without any physical branches. You can apply online. You'll still need a UK address along with your ID, but you don't need the kind of bill that comes to your permanent residence so you can use a friend's place or your temporary residence. You can get a debit card within the week.
In this article I've put together everything you need to know about the UK credit scoring system.
You've been living in the United Kingdom for over a year and a half now. Do you have access to National Health System (NHS) services?
Yes, when you apply for a visa, you pay NHS fees, so you have access to all the same services as a citizen, from the very first day that you arrive in the UK.
You can read more about healthcare in the UK in this guide.
England is known for rainy weather. What are winters and summers like in London?
It's rarely below 0 degrees C in the winter, and it doesn't snow much. It is windy, which makes it colder, especially on rainy days, which are about 70% of the time during the fall and winter. Spring and summer are usually nicer. Learning to live with the rain is part of becoming a Londoner!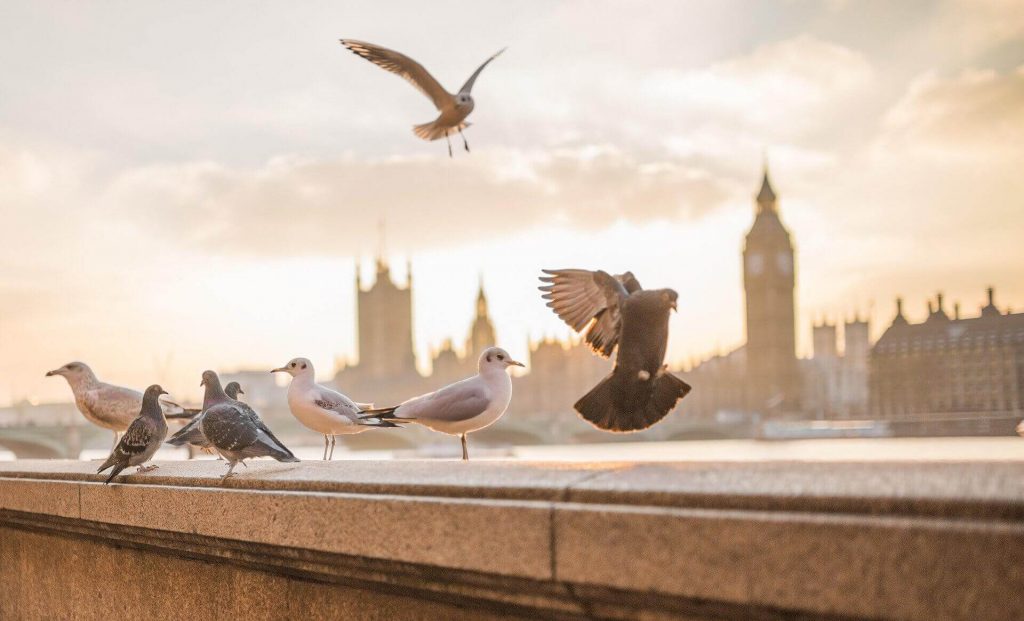 What makes London an attractive place for you as a tech professional?
It's the Silicon Valley of Europe! Many big tech companies and startups have offices in the city, so there are lots of opportunities.
NOTE:
London's tech scene has generated quite a fuss in recent years, attracting more investments than Paris, Berlin and Stockholm put together (according to Dealroom.co at least). So it isn't surprising that the Mayor has considered his city the tech capital of Europe.
But why has the industry exploded the way it has?
Well, London is lucky enough to house 45 of the UK's 72 unicorn startups, including popular names such as Gymshark, Starling Bank, and Monzo!
And it's not just British companies that are benefitting from the attention the tech scene is getting. Of the whopping $10.5 billion USD which graced London's tech industry in 2020 (almost beating the record in Europe!), 36% of it came from across the pond in North America!
Plus with the competition in Silicon Valley being much more challenging to navigate, more and more companies are branching out to England's capital in order to conquer the European tech scene. So it is no wonder that more and more techies are following suit!
One last question: what's one piece of advice you would give someone planning to relocate to London?
Plan ahead! Learn as much as you can about the area before you move. Find a place to live as soon as possible. And be patient—making a big change can be hard, but once you've been settled for a few months, it'll get smoother.
If you'd like to move to the UK for work, click here to see IT jobs are currently on offer in London and other UK cities.