Maxwell is an Amsterdam-based company, working on low-code platforms for chatbots and voice assistants. Thanks to their products, one can easily build and implement chatbots without technical knowledge. We're more than happy that this company leverages Relocate.me to recruit experienced Software Engineers from all over the globe. To find out more about their hiring success, we spoke to Asbjørn Jørgensen, the co-founder of Maxwell.
***
Why did Maxwell decide to hire abroad? Did you experience a talent shortage on the local market, or just wanted to diversify your team?
As we focus on hiring the best people for our positions, we don't limit ourselves to the local candidates' pools only. It so happened to be that we often find suitable people abroad. Currently, most of our team consists of expats.
Do the Dutch companies often hire from abroad?
Yes. At tech companies, based in large cities like Amsterdam, it's becoming common that teams consist of people from multiple nationalities. Moreover, the government makes it relatively easy for employers to relocate candidates to the Netherlands, so the process of becoming a sponsor for knowledge migrants is quite streamlined and smooth. That helps us save time in order to focus on helping candidates to relocate.
Tell us about your overall experience with Relocate.me.
We use Relocate.me to attract professionals for engineering roles. The hires who come through the platform usually have 10+ years of hands-on experience in the industry-leading companies. That makes Relocate.me a unique source of experienced candidates for us. As for the timing, we usually find a candidate we're excited about within 2 months.
How long does it take for you to relocate a candidate to the Netherlands?
The whole process usually takes 4-6 weeks. From the moment of signing the contract until the candidate arrives at work, we usually need at least 4 weeks to get everything prepared for a smooth relocation.
How do you support your candidates during the relocation process?
We provide our candidates with visa sponsorship and help with all the other practical matters of relocating. As soon as our new hire comes to the Netherlands, we help them with the residence permit, accommodation, a bank account, social security number, and everything else they may need. Surely, we discuss the checklist of relocation assistance resources with every candidate individually.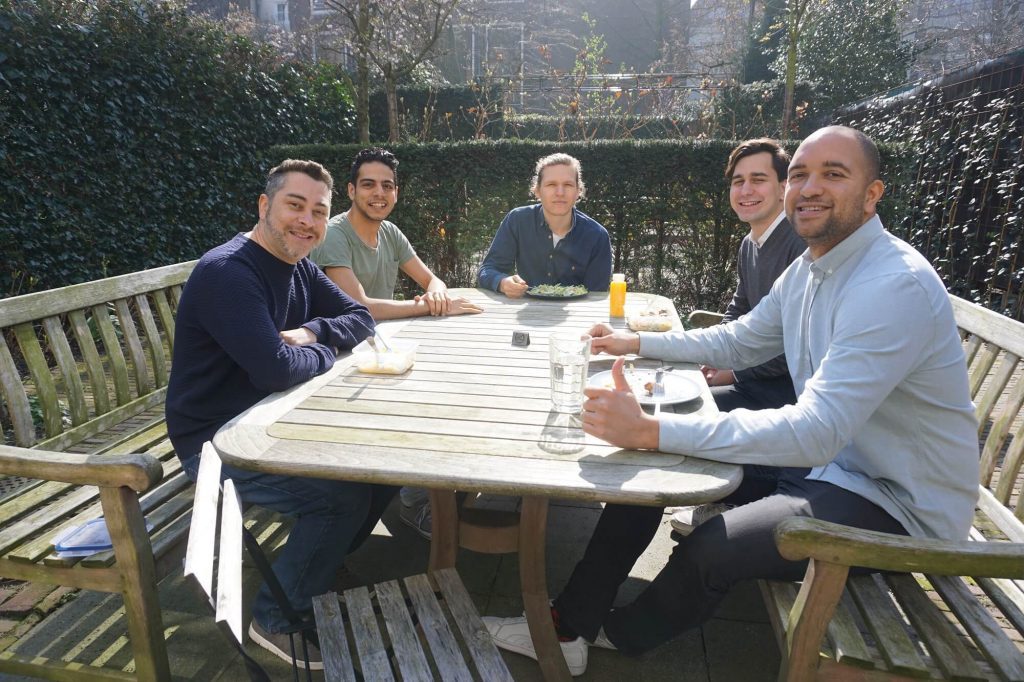 Maxwell team in their office garden
What do you like most about working with Relocate.me?
For Maxwell, it's all about the quality of candidates. Currently, we're very happy with the candidates that we found through the website.
What do you think makes Relocate.me different from the other job boards for developers?
Relocate.me has a very specific focus and goal — helping professionals to relocate to another country. As someone whose parents both relocated to the Netherlands, I support this goal with all my heart. It's a big deal, seriously, and we always take the time to make this step successful for our candidates. We really care about our hires, and I personally take a lot of responsibility in supporting them during the relocation process.
Having gone through the process of hiring from abroad, what advice would you give to those companies who are going to use the same approach?
Try to find a balance between hiring from abroad and hiring from the local market. Expats always want to learn more about the local culture; so it definitely helps to have a few locals in the team.
***
Browse jobs at Maxwell and other tech vacancies in the Netherlands here. If you want to move to the Netherlands, read the story of Michele Bertasi — a passionate C++ developer who moved to Amsterdam from Italy.