Despite the fact that an average software engineer would rather consider Italy as a travel destination rather than a relocation spot, the fourth-largest economy in the EU performs above the world's average in income, wealth, work-life balance, and healthcare, according to the OECD Better Life Index, and has a promising IT industry. The latter contributes a value-added of 3.2% of GDP to the Italian economy, and software engineering companies bring a market value of €50.8 billion, offering many IT jobs for software engineers. Qualified developers are paid 50% higher than other service sector employees in the country, which is good news. The warm and welcoming temper of the Italian nation, tremendous cultural heritage, and delicious cuisine are cherries on the top of the cake, promising smooth integration.
We hope that our recent interview with Michel, a Lebanese software engineer who relocated to Milan from London, will inspire you to expand your horizons and consider Italy as a relocation destination in your international job search. Without further ado, let's get into it.
Michel's background
Home country: Lebanon
Time in the industry: A first-year graduate
Current tech stack: Swift, Python, and C++
Passions outside of work: Reading, history, and board games
What made you choose Milan as a work abroad destination? Was it by accident, or were you actively seeking a Software Engineer job in Italy? 
Initially, I wasn't looking for Italy specifically. I was looking for developer jobs all over Europe but with a particular focus on the UK and France because those are countries where I speak the language. I was actually a bit worried about moving to Italy as I thought the language barrier would be a problem. Bending Spoons assured me that it would be fine, and so I decided to take the plunge. That was mainly because I was excited about the opportunity to work with Bending Spoons and because I had heard good things about how international and welcoming Milan in particular was.
NOTE: 
Bending Spoons is a fast-growing tech company focused on developing and marketing mobile apps. Since its founding in 2013, the team has built over 20 applications, which in total boast over 390 million downloads and more than 12 million monthly active users worldwide! Contact tracing app Immuni, which opposed coronavirus in Italy, video editing suite Splice, and 30 Day Fitness, which delivers home workouts through video workshops, are some of the best known Bending Spoons' applications. The company is being recognized as the best workplace in Italy, two years in a row.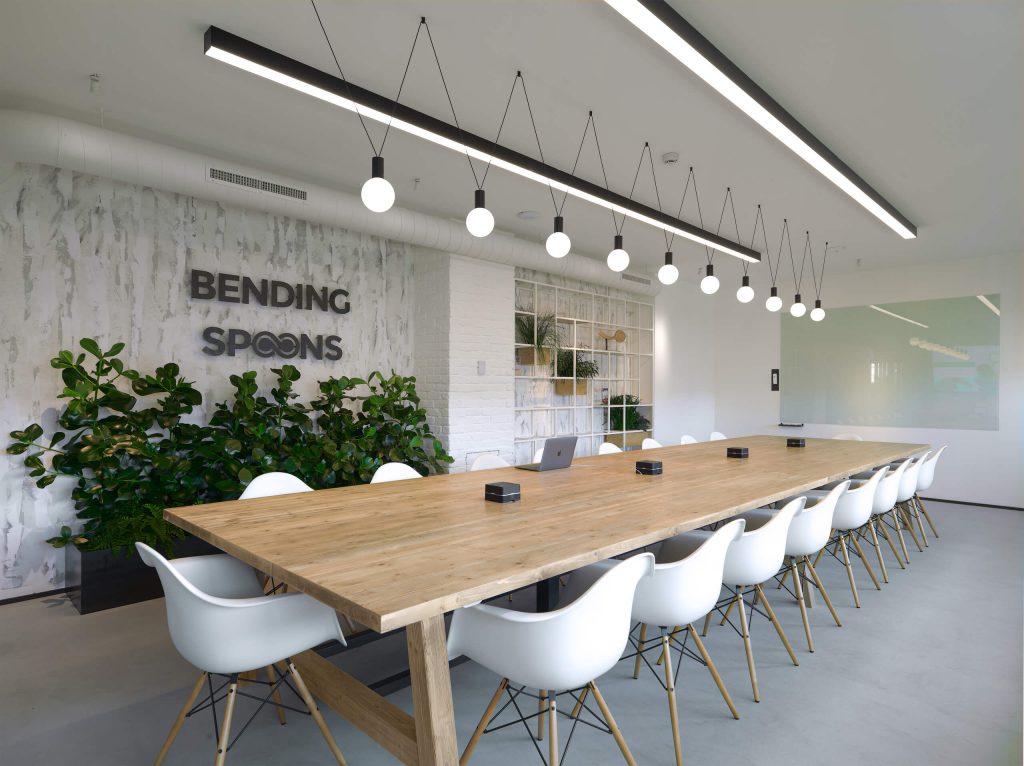 You are now working at Bending Spoons as a Software Engineer. How many interview stages did you have to go through to get this job? 
The interview process at Bending Spoons was quite thorough and took a very long time; that said, it was also very enjoyable, and I never felt overwhelmed at any step. Here's a quick overview of the steps I went through, each of which can take between a few days and a couple of weeks:
Step 1:

Resume and cover letter submission. 

Step 2:

Project completion. If

recruiters like your resume

and cover letter, then you will be sent a project that is relevant to your position. What's really nice about this step compared to how many different companies do it is that it is not a timed project to take your time and present your best work.

Step 3:

A

behavioral interview

with the recruitment team members, whose aim is to find out more about your personality and attitude.

Steps 4 & 5:

A series of technical questions and logic puzzles, expecting essay-like answers. 

Step 6:

One final interview, this time with technical questions involved. 
This is what happened in my case, though I think it might vary. I was free to take these steps at my own pace, taking as much or as little time as I wanted, generally, for each of them. As I preferred to take my time with all of them, the whole process took about three months for me. 
Do you have any tips for those interested in landing a Software Engineer job at Bending Spoons? What was your recipe for success? 
Take it one step at a time! Here are some tips for each step:
Step 1:

Research the company in advance, make your cover letter stand out, and be memorable. Remember that you have more competition at this stage than at any future one, so you need to let your uniqueness shine through. 

Step 2:

Take your time with the project, don't rush it. There are no points for completing it in a couple of days compared to taking a full week. This is specific to the software roles but: think larger than just the project itself. Getting all the features working and bug-free is essential, but you also need to think about readability, scalability, and code safety.

Step 3:

Don't be nervous! Bending Spoons' recruiters are awesome people who are super friendly and will make you feel comfortable. Treat a job interview as a friendly chat, show why you would be a great person to work with.

Steps 4, 5 & 6:

These are more technical steps with little shortcuts. Remember, however, that you have been preparing all your life for doing this kind of job, now you are simply being given a chance to show that. If you've made it this far, the hardest parts are over!
What was the work visa process like? 
Work visa applications are incredibly stressful, of course, especially in a year like 2020. But the Bending Spoons team was amazing once again and guided me through the whole process. Here's how it went for me, although it might be different based on your country of origin:
First, I had to obtain a "declaration of value" from the Italian embassy. To do that, I had to send them my university diploma, translated into Italian and notarized by several ministries in Lebanon. 

Once the embassy issued the declaration, I sent it to Bending Spoons so they could apply for a work permit for me. 

Once the company obtained the work permit, they sent it to me, and I used it to apply for a work visa.
The process is simple but was delayed at several steps for me due to many embassies/ministries being closed or not accepting visitors during lockdowns. However, when I couldn't attend an embassy in person, they usually allowed me to send the documents electronically, and in the end, the embassy made sure to issue my visa before my intended travel date rolled around. The whole process took about five months, so I'm definitely glad to have started early, but it should be much shorter in "normal" years.
NOTE: 
Citizens of the European Union, European Economic Area, and Switzerland don't need to apply for a right to work in Italy. The work visa fee for non-EU citizens costs €116, and it is only possible to apply for a work visa from outside Italian borders. 
An Italian work visa can have the duration of your work contract or be unlimited. In the first case, the duration can't be less than one year, and in the second case, the maximum duration is two years.
It is worth using the following tool to clarify what kind of documents you need for an Italian visa.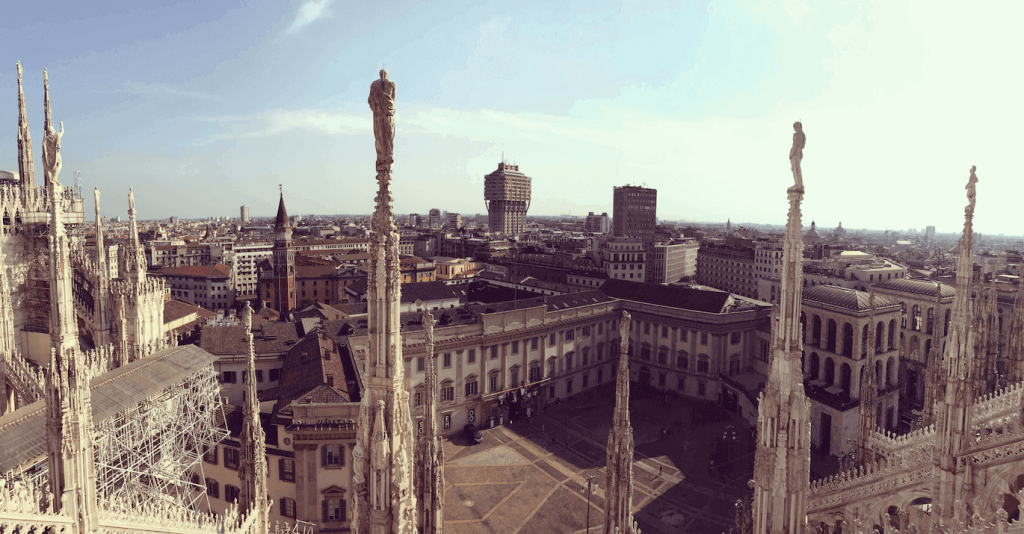 As far as we know, the Italian work visa simply allows its holder to enter the country for employment purposes. To stay and work in Italy, it's necessary to apply for an additional (residence) permit upon arrival. Is that true?
This is true. It is necessary to apply for a residence permit within eight days of entering the country. Many documents are needed for the application, but your employer will let you know to prepare them in advance. In the case of Bending Spoons, they also sent someone with me to help at the application appointment as the immigration office employees usually do not speak English.
When you apply for the residence permit, you will get a receipt that is proof of your application. It is essential that you do not lose this receipt, as the residence permit usually takes months (in my case, nine months) to be issued. Until that happens, you will use your receipt in all situations where you would normally need to show your actual residence permit (e.g., when entering and leaving the country or when trying to open a bank account).
What kind of relocation assistance did you get from your employer?
Bending Spoons provided much in the way of material assistance! For example, they found and paid for my accommodation for the first three months of my contract. They reimbursed me for the relocation expenses as well, not just the plane tickets but also the cost of buying luggage, applying for a work visa, and purchasing essentials for my new residence.
But more importantly, they helped through every step of the immigration process, from the residence permit application to opening a bank account. They always sent someone in person to help with communication and translation.
NOTE: 
Click here to browse Software Engineer jobs with relocation assistance.
How long did it take for you to actually move after accepting the job offer during the pandemic? 
I accepted my job offer in April 2020, so, as mentioned earlier, the whole visa application process took about 5-6 months. I received my work visa only a couple of weeks before my intended travel date. This was fine as it coincided with me finishing university as well (in early September 2020).
Is it hard to find an apartment for rent in Milan? Are most rental properties furnished or unfurnished? What websites did you use in your housing search?
One small positive aspect of 2020 was that it was easier to find apartments to rent as many people moved out of big cities! I searched for apartments on many websites, including idealista.it, casa.it, and immobiliare.it. Most rental properties were fully furnished. 
How much does it cost to rent an apartment in Milan? How do you find the cost of living in general?
Rent can be pretty expensive, especially in the city center, but that is to be expected for a big city. If you are willing to live in the suburbs, then a one-bedroom apartment can be between €600-€800 per month. Of course, it's also cheaper if you can find someone to share an apartment with. For instance, at Bending Spoons, we have an internal Slack channel where we can look for potential roommates.
Outside of rent, then monthly expenses mainly depend on how much you are willing to cook for yourself as compared to eating at restaurants or ordering take-out. If you mainly do your own cooking and don't go out much, then monthly expenses can be as low as €200, but for an average young adult, it's probably closer to €700 per month, outside of rent.
The cost of living in Milan, in general, is very similar to London, where I last lived before moving to Italy. I would say London has much more expensive rent but is otherwise a bit cheaper.
NOTE: 
A one-bedroom property in the center of Milan will cost you between €800 and €1,600.
You can use the sites Numbeo and Teleport to get to know more about the cost of living in the city of your choice or see the comparison between the two cities.
What percentage of your salary goes to taxes? 
The tax rate is quite high in Italy, and overall about 33% of my salary goes to taxes.
NOTE: 
Glassdoor says that the average software developer salary in Italy is €30,000 per annum. Depending on the level of experience, salaries vary from €24,000 per year for entry-level software developers to €45,000 for experienced software developers, according to PayScale at least. The good news is that most Italian companies offer various benefits and perks on top of a salary. For example, Bending Spoons, offering stock options, healthcare coverage, a signing bonus, access to the latest hardware, free weekly yoga classes, to name a few. Of course, compared to other EU countries, developer salaries in Italy are lower, but many of them, including Switzerland, Denmark, France, Sweden, and the Netherlands, outperform Italy in terms of the cost of living. 
In Italy, income tax paid by employees is divided into three subcategories:
National income tax
This tax is progressive—the more you earn, the higher tax you have to pay. The rates are as follows:
23% on earnings between €1 and €15,000

27% on earnings between €15,000 and €28,000

38% on earnings between €28,000 and €55,000

41% on earnings between €55,000 and €75,000

43% on earnings over €75,000
Regional income tax 
It depends on the region where you live and ranges from 1.23% to 3.33%.
Municipal income tax 
It varies from municipality to municipality and can be from 0% to 0.8%.
To learn more about personal income tax in Italy, check out this guide.
What do you enjoy most about living in Milan? Is there anything you don't like about living there? 
My favorite part about living in Milan is definitely the people! I haven't met as many as I would have liked to, unfortunately. But the people I did get to meet are cool and awesome! In general, most people are sweet and happy to help others. 
Milan is also a very modern and international city with all of the benefits that entails—there is always something to do, the streets are a joy to just walk around and explore, the transportation system is extensive and efficient. And the food! The Italian food and desserts are to die for.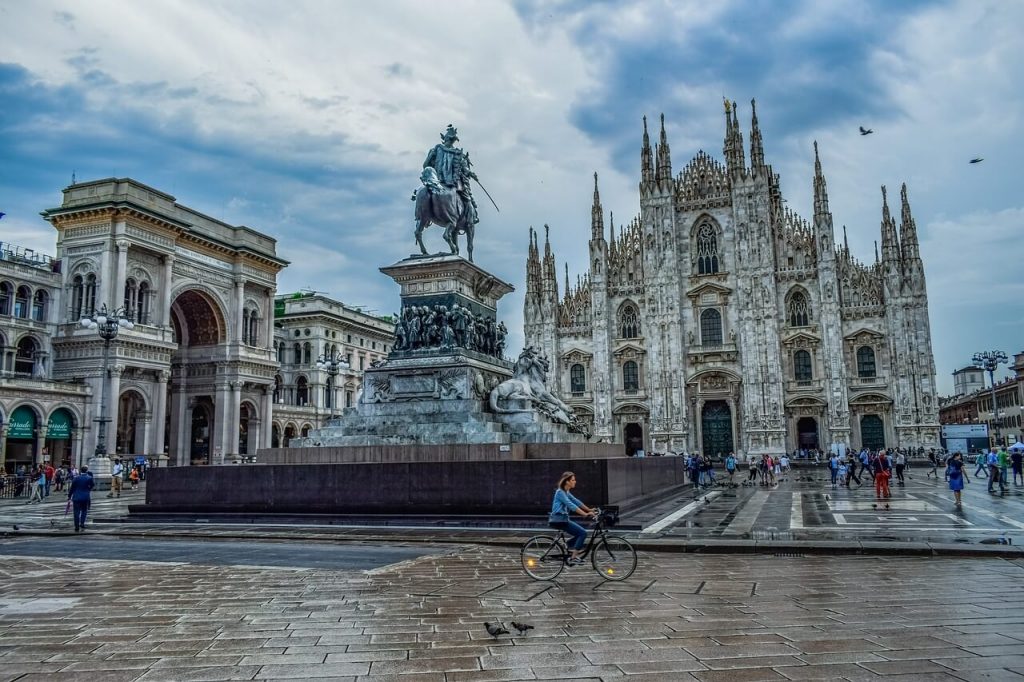 I have disliked how isolating big cities could be during the times of heaviest restrictions, but that should hopefully not be a problem after this year. Other more minor complaints include the general lack of English-language activities or services and the coldness of the weather for most of the year.
What are the biggest differences between living and working in Italy and your home country?
I come from Lebanon, which is a rather poor country that has recently been going through many crises, so maybe it is not the fairest comparison. But compared to it, Italy is a much better place to be in terms of job security and worker rights. Society is more tolerant and open-minded; there is less instability and corruption.
What makes Milan an attractive place for you as a software developer? 
I actually believe that Milan is a great place for young developers starting their careers! It is young and social, with many universities and (outside of 2020) a thriving nightlife. It's also the technology hub of Italy and the surrounding region! There are offices for all the biggest tech companies, but several tech startups are also based there, and it frequently hosts tech events such as hackathons.
Can you tell us a few words about healthcare in Italy? For example, as a foreigner, do you have the right to public healthcare? Is private health insurance required?
Italy has a mixed public and private healthcare system. Italians rely mostly on public healthcare, but a portion still opts for private clinics, whether to avoid long waiting times or to have an overall more comfortable medical care. Although the comfort and the quality of service at private hospitals are generally superior, the quality of care is likely to be similar to that of public hospitals. All legal residents, both Italians and foreigners, have the right to public healthcare, which is generally free or sometimes subject to symbolic fees. 
All Italian companies are also required by law to provide some form of private insurance for their employees, and Bending Spoons offers that through Metasalute, opting for their Plan C option. This insurance is available after the end of your trial period. In the case of a fixed-term contract, it is only offered to people who have at least five more months in their contract after the trial period.
If you had to define public transport in Milan in 3 words, what would they be? Does commuting take up much of your time?
Simple. Clear. Extensive. 
The public transport network reaches almost every area of the city and is generally very easy to understand and use even if you don't speak Italian. The metro runs until 1 am so it is easy and safe to go home after a night out. If you are in the center, you can opt for the slower but much more scenic route using Milan's beautiful trams.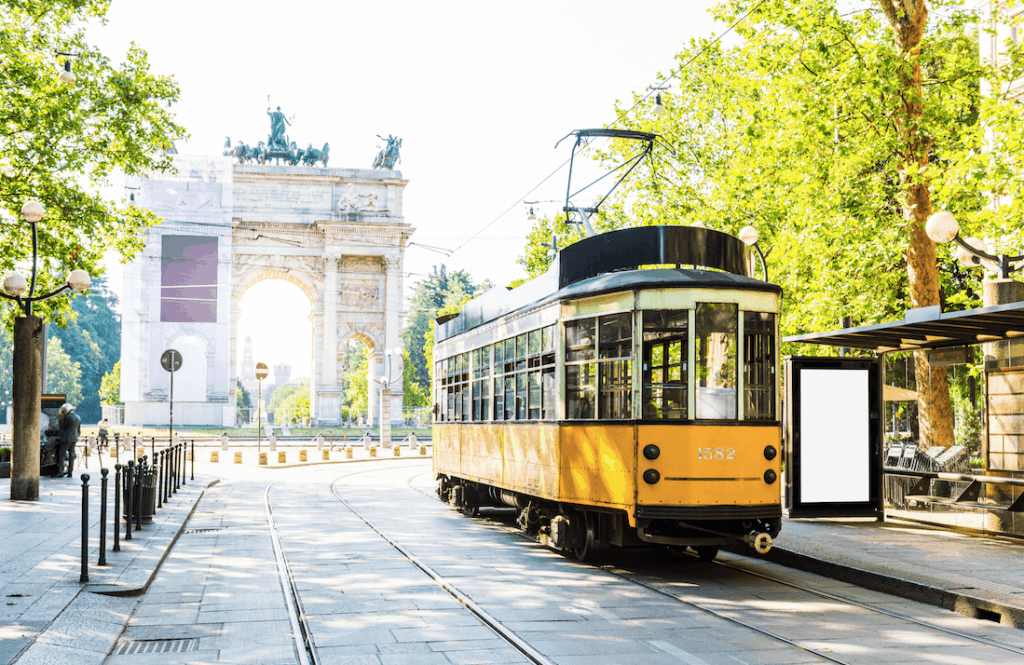 Finally, Milan is actually a very walkable city, so if you're not in a rush, then keep in mind that you can probably walk to your destination. It's free, healthy, and relaxing!
Work at Bending Spoons has been almost completely remote, so I haven't had to commute since I joined, but it takes around 30 minutes to get from where I live in the outskirts to our office in the center, so that is pretty reasonable.
Are you learning Italian? Or is knowledge of English enough to comfortably live in Milan?  
I am taking Italian lessons every Wednesday, provided free of charge by Bending Spoons as part of their relocation package. Knowing English is enough to get by on day-to-day, for sure. English is quite commonly spoken in the more touristic areas and by the younger residents. But knowledge of Italian is necessary for administrative reasons and immigration-related tasks. For example, it would be quite difficult to open a bank account, or receive your national health service card, or apply for and receive your residence permit without speaking Italian. Luckily your company will probably help with all of these steps, but it is still essential to learn Italian if you want to be comfortable as a citizen in Italy. You will also have to undertake an Italian language test when applying for renewal of your residence permit after a year.
If you could give one piece of advice to anyone looking to move abroad for a tech job, what would it be?
Preparation is your greatest asset! Moving abroad to start a new tech job should not be taken lightly. Should you do it? I think absolutely yes because it is an opportunity to really grow as a person and develop in ways that you never could by picking the safer option of staying close to home. Plus, why would you limit your opportunities and job search to a single country when the whole world could be available for you? That said, the tradeoffs are a very stressful and almost overwhelming initial adjustment period. But that is where you can help yourself by being prepared!
Knowing what to expect and how to handle it will be crucial. Look into how you can open a bank account, look into immigration laws, healthcare laws, the housing market. If possible, take some lessons to start learning the language in advance. Search for people online who may have had similar experiences to you and, if possible, ask them for advice; usually, they are very happy to help. And, of course, there will always be surprises and things that you did not anticipate. That is okay, and your company will hopefully be there to help you through them. But every minute of preparation before your flight can save you hours of headaches after it, so give yourself the best start you can and prepare!


It is time to wrap up. If Michel's story sparked your interest in Bending Spoons, take a moment to peruse their job openings—they are looking for a Senior Android Engineer, a Senior Computer Vision Engineer, an iOS Engineer, and a Senior Product Manager at the moment! Who knows, maybe joining the Bending Spoons team is the opportunity you've been looking for.