For many in the IT industry, Estonia, the small Baltic country with a population of just 1.3 million, is not an obvious dream relocation destination for a developer job. This small country, however, and in particular the capital Tallinn, can easily compete with Berlin, Amsterdam, London, Paris, and the other top cities in Europe when it comes to IT jobs. The combination of an easily obtained work permit, a massive amount of promising startups and leading tech companies based there, and the high English language proficiency level in the country make Estonia attractive to foreign talent.
Hopefully the story of Artem, who relocated to Tallinn for a software engineering role at Bolt over two years ago, will help you decide whether or not moving to Estonia for work is the right choice for you. Let's dive in.
Artem's background
Home country: Ukraine.
Time in the industry: Approximately 5 years, with 2-2.5 years experience at the time of relocation.
Current tech stack: NodeJS + TypeScript. Before relocation, Artem was working with Java and related technologies.
Passions outside of work: Video games, traveling, nature, playing the guitar, reading books, and hanging out with friends.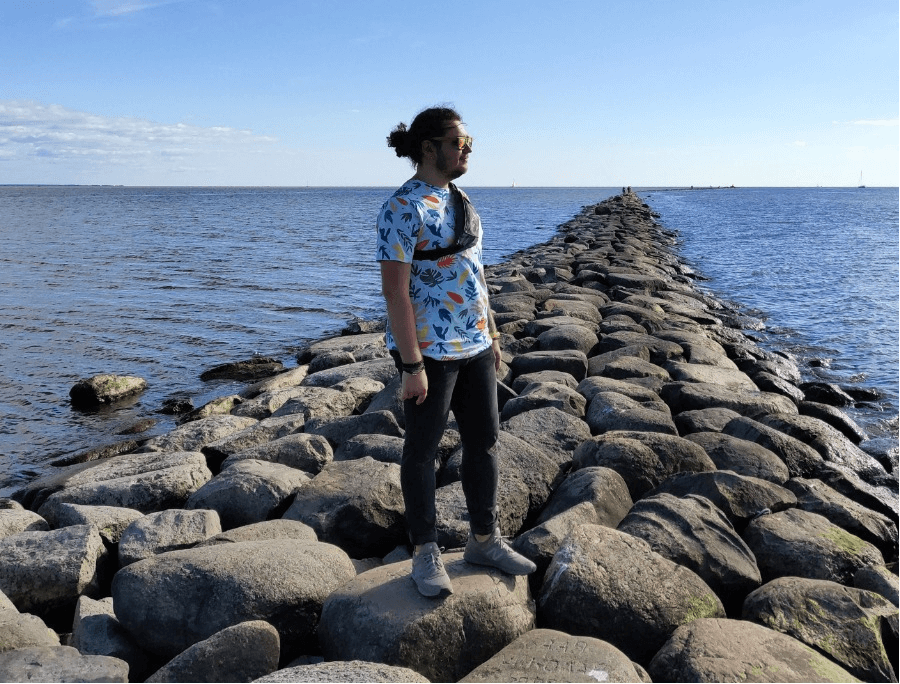 What made you choose Tallinn as a work abroad destination? Was it by accident or were you actively seeking a tech job in Estonia?
I would say that was an accident. I lived in Kyiv working for a startup and still had more than a year until my master's degree was complete. Everything was going well, and I didn't have a strong desire to move abroad. The plan was to graduate from the university and then try to look for work elsewhere in Europe. But at some point, I received a message on LinkedIn from a recruiter. Frankly speaking, I was not sure about it. I knew nothing about Estonia, but I agreed to take the call. The recruiter shared links with me links during our first call, but I was still unsure whether Estonia was the place I wanted to live and work. After passing through all the interview stages, I took time to research the country thoroughly. I have friends in different countries, so I also talked to them to understand if it was a good move, and decided to relocate. I was amazed and confused simultaneously. How come I hadn't heard about Estonia before?
You are currently working at Bolt as a Senior Software Engineer. Can you briefly describe their interview process?
When I was hired, there were five stages. The described process is for back-end engineers; mobile and front-end developers have only the two first stages in common. It's also worth noting that Bolt requires no technological knowledge, for example how the JVM works. You are able to code using any language you want in all of the interview stages.
Online task: a simple coding task with a time limit, to be completed whenever you want, without an interviewer.
The first coding interview: similar to what FAANG companies do. Beginning with a conversation regarding prior experience, before the interviewer then presents you a problem to solve. A candidate must code their solution. After that, the candidate has time to ask the interviewer about anything. The interview lasts 60-75 minutes.
The second coding interview or a role-specific interview: most back-end software engineer interviews are the same as the previous stage, but with another task and another interviewer. Some back-end teams might have a specific interview, like Data Engineering, which focuses more on their specific needs. The length of this interview is also 60-75 minutes.
System Design interview: the interviewer might ask you what you have previously done and follow up with some questions from a technical viewpoint. After that, the interviewer presents a problem to solve, but you need to approach it on a higher level, without writing the code itself. The initial problem might evolve as you solve it and you will need to adapt your solution. The interview ends similarly to the others and the candidate can ask more about the company, technologies, approaches, etc.
Talk with managers: here multiple calls may take place. Basically, at this stage, engineering managers try to understand if you are a good fit for their team. It is much more of a casual talk about your expectations and what drives you. I had two such calls.
The process was quick but clashed a lot with my schedule. So in my case it took around 1.5 months from starting to receiving an offer. I signed the offer digitally and we agreed on a start date. I should mention here that I asked to set a start date 4 months later, as I wasn't quite ready just to pack a bag and fly away, but this was not a problem. Later I referred a friend and he finished the entire process in about two weeks, including the offer stage and some preparations for moving. Three weeks after his first call, we were already tasting Estonian beer together in the local pub. It might not be that quick these days, but it is still is fast.
Do you have any tips for those interested in landing a Software Engineer job abroad?
I do not have the ultimate recipe for everyone. It is always better to refresh your knowledge before you have an interview. I had some ACM experience before, so I focused more on system design topics. If you are expected to have coding interviews, practice using LeetCode. You can't learn everything once the recruitment is in progress, so I just quickly refreshed my memory and briefly read about some parts I was not an expert in. Overall, here are some suggestions I can give regarding interviews:
Do not be shy, speak loudly. Interviewers want to understand how you think and might guide you if you are going in the wrong direction.
Ask questions. Candidates are expected to ask questions.
Make sure you have understood the questions correctly.
Listen to your interviewer. They are there to help you, not to trip you up.
If you are given a hint—think about it. A hint does not mean you

'

ve already failed. If you do fail though, try to get feedback on what went wrong. Even without feedback, you can still analyze what happened and find your weak spots. Focus on them.
What was the relocation process like? 
The relocation process was easy for me and my wife. Throughout the process, a person from the company helped me. I signed the contract digitally, made an appointment with the Embassy of Estonia, gathered all the required documents, and applied for a residence permit. It is indeed quite easy. All the papers were in English. All the payments, like state fees and insurance for my wife, were made by Bolt. They just sent me digitally signed confirmations, and I put them together before going to the embassy. The people in the embassy were friendly and helpful. I had an appointment with a consul. She asked a few questions, like why I want to move, and checked if all the information was correct in the documents. It took just one visit and I got a temporary residence permit for five years. The permit is linked to my employer, but it doesn't mean that I cannot change company, but I would need to do so within three months of leaving the previous company. The period could be shorter though; for example, it is one month if I left by my own decision. Usually, it is easy to find a job in IT even within a month. There are quotas for residence permits, but IT specialists are not there.
Overall, it took two months from me applying for the permit to receiving a physical document. I received confirmation the residence permit was issued via email in a month or so. In another month, I received an email stating that I could pick up my ID card from the police department. There was an option to get it from the police or ask for delivery to Ukraine, but I chose the first option, as Ukrainians can enter Estonia without a visa for a limited time. My ID card was ready for me one month before I moved to Estonia!
The company paid for an apartment for the first month in Tallinn (I found it via Airbnb), they bought us plane tickets and paid to deliver our belongings to Tallinn. Also, Bolt later paid the broker fee and the first month of our permanent apartment's rent. I didn't have to have a lot of money to move to Estonia! After moving, everything we needed help with to speed up the process was handled by MoveMyTalent's employee Sander. From the moment I landed in Tallinn, he helped me fill in all the documents I needed, like the contract with a family doctor, finding a new home for us, and everything else we needed for a new place.
What did the visa process look like for your wife?
The process for my wife was almost the same. She was applying as a partner without a work contract. In my documents, she was stated as 'Partner', and I was also mentioned in her documents. The only thing she additionally needed was insurance. Bolt paid for private insurance for her for one year and sent me confirmation, which was put with other documents before going to the embassy. She booked an appointment with a consul on the same way, but needed to answer a few extra questions about our relationship. My wife was waiting for her new internal Ukrainian documents and applied later. I suggest applying together if you have that possibility. My wife was waiting for the decision longer than I was. When we were already in Estonia, she received an email to provide our marriage certificate, translated into Estonian. Sander, our 'relocation buddy', helped us have the document translated with notarization within a few days. We sent it via email and my wife got her permit. The permit issued was almost the same as mine, but for two years. After two years, she sent a few documents over email and got a new permit for three years, as it is linked to my permit. My wife's permit allows her to work where she wants, and apparently, she can change employment when she wants. Different projects could help a partner find a job or start a new career, find like-minded people, help you with language learning, or help you, as a partner, get acquainted with the way of doing things, like owning a small business. The unemployment fund also offers to pay for professional courses if you need, with some limits, that are hard to reach.
How long did it take for you (as a non-EU citizen) to actually move after accepting the job offer?
In my case, it took around 4-5 months, but that is because I asked for that period to stay in Ukraine, so I didn't have to leave my current company and so I could spend some time with family before moving. Generally though, one can move much faster. I'm not pretending to be a legal expert, but this is what I've generally heard from my colleagues. A person can apply for a residency permit either from their home country or whilst already in Estonia. The employer should register so-called short-term employment until a residence permit is given. Another point is getting here. I got here with no issues or additional documents, as Ukrainians can enter the EU with the new biometric international passport. If you are moving from a country that doesn't have that, you can apply for a work visa. Usually, this is issued quickly.
In general, is it hard to find an apartment for rent in Estonia? Are most rental properties furnished or unfurnished? Where to search?
It is much easier to find somewhere to live in Estonia than in Berlin or London. It is harder for people with animals and children compared to singles or just couples though. We found our apartment in a few weeks. I just gathered a list of places we liked from local websites (www.kv.ee and www.city24.ee) and arranged to view them.
There are both furnished and unfurnished options, but the majority of rental properties are furnished. There are rare cases when properties are semi-furnished, with all necessary things for the kitchen and bathroom furniture, but without extra items, like a TV, microwave oven, sofa, or bed. I won't say that all owners are happy to buy those things for you, but it is not uncommon. You can make a deal with the owner, purchase additional items, and substitute that amount of money from rent payments. Those things will remain in the apartment when you leave of course. Saunas are not uncommon inside your apartment in Estonia!
Usually, landlords do not wait for multiple offers or bids, but just rent out to the first person who is ready to move in. In our case, we had almost everything included, but without extras. Kitchen furniture, bathroom furniture and essentials were all included, such as a dishwasher, washing machine, bed, sofa, and integrated cabinets. The owner bought us a TV in the first days and everything else we bought on our own from IKEA or local stores. Mostly, we just needed to buy trivial things, like kitchenware, tableware, a kettle, a coffee machine, a few cabinets, pillows, decorations, and so on. In most cases when you rent an apartment you can live there right away and buy these small items later.
Another important thing to know is that everything is official and you should register your place of living. To do so, simply go to the website, log in with your ID card and fill a form with an attached contract. The owner will receive a request to approve the information. Registering gives you perks, like free public transport inside of Tallinn. Some owners do not want you to do that so that they can avoid taxes, but you can draft an email to the police and they will force registration for you without the owner's approval if you have signed a contract. In our case, the owner said that he would register us and it is not an option for him not to do that. The contract signing also takes place digitally. You just sign with your ID card online or locally on your device.
How much does it cost to rent an apartment in Tallinn?
For around 600 euro per month, you can find decent one-bedroom (50-60m2) options near the centre in a new building. Historic areas are more expensive. There are many options to rent nice apartments for 300 euro even, but further from the centre and in an older house. There are a lot of renovated old houses, so they are not all that bad. When talking about a single person or a couple who wants to rent a decent fresh one-bedroom flat, prices are approximately:
750-800 euro near the historic area, city centre or harbor. These areas are close to each other, but are quite different.

600-650 euro 

in areas near to the center.

450-500 euro

 

a bit further afield.
Most of those properties will include some extra perks such as parking, a storeroom, a terrace or a sauna. If you are not limiting your search with fresh buildings, you may find cheaper options in each area.
When you sign the contract, the first payment may include the following:
The first month's payment, in advance.

The broker fee—which might not exist if you contacted the owner directly.

The security deposit—which is returned if everything is okay when the property. The deposit might be over one month's pay if there are additional agreements, like if you have a cat or dog.
I pay 600 euro. The building is fresh (built in 2014 if I am not mistaken). It takes about 12-15 minutes to get right from our building to the historic center using public transport, or around 8-10 minutes by car. We also have a 10m2 terrace, a small backyard, a private parking spot near the house, and a 5m2 storeroom on the ground floor. It is not overcrowded, quiet and a pretty place. Household utilities vary on the building heavily. In not so old houses (built after 2000) the cost will not be huge, but in older buildings or historic areas, they might cost more in the winter. I pay 80-140 euro per month for everything, plus 25 euro for the Internet. Winter is more expensive because of heating. Occasionally the whole building undergoes additional work. For example, in our building a few months ago, the whole ventilation system was maintained, and in each apartment, all the filters were changed. Usually, all owners discuss it and make an appointment for one day, with a flat schedule beforehand. The owner paid for the work. There are new buildings near the centre. Some areas are given a second chance and are becoming a 'hipsterish', so you have an option to live in a lovely new house even closer to the historic centre with a lot of interesting places nearby.
How much can a Senior Software Engineer expect to make in Tallinn? Does the salary match the cost of living?
The average salary in Estonia is around 1,300-1,400 euro net. Given the cost of living in Estonia, it is a fair salary. In IT you will make much more than that. I'm not aware of all the wages here, but roughly speaking, senior-level software engineers could make 3,000 euro net per month and twice this if you are skilled enough. With bonuses (like stock options and annual bonuses), this climbs even higher. There is a broad range for one role across all companies. Some pay less, some pay much more. It might be a small local company, an outsourcing company, a startup, or a well-established company. Given that, I would not say that salaries are always lower than in other popular European cities. You can make a lot here, but even if you make 20-25% less in Tallinn, you can have more money left in your pocket compared to living in other western European cities. The quality remains the same, but much more possibilities in the future.
Note: You can get an idea of what your net salary in Estonia would be like by using this take-home pay calculator.
What makes Estonia an attractive place for you as a software developer?
From a professional viewpoint, there are a lot of exciting companies here. Estonia is the leader in the number of tech unicorns per capita. The cost of living is not going nuts, but salaries can be higher than in the most expensive cities. Digitalization is everywhere, and I'm happy about that as a software engineer. You can do everything you need online: sign documents, get a mortgage, register an appointment with your doctor, get a drugs prescription prolongation in a few minutes, sell and buy a car (even a used one), register your residence, fill and send your tax report in 3 clicks, and much more. You can do the above by simply using a laptop and your ID card. No queues and no efforts; it is fantastic.
What do you enjoy most about living in Estonia? Is there anything you don

'

t like about living there?
When I was moving here, I thought it was not a destination for me and I wanted to try other countries. After two years here and traveling across Europe, I'm more confident that it might be the best place to stay and live in.
I already mentioned digitalization, but it is so cool.
You need not spend a lot of time to get to nature; it is close to you—only 20 minutes by car and you are sitting on the beach between the Baltic sea and the forest, or hiking through the bog.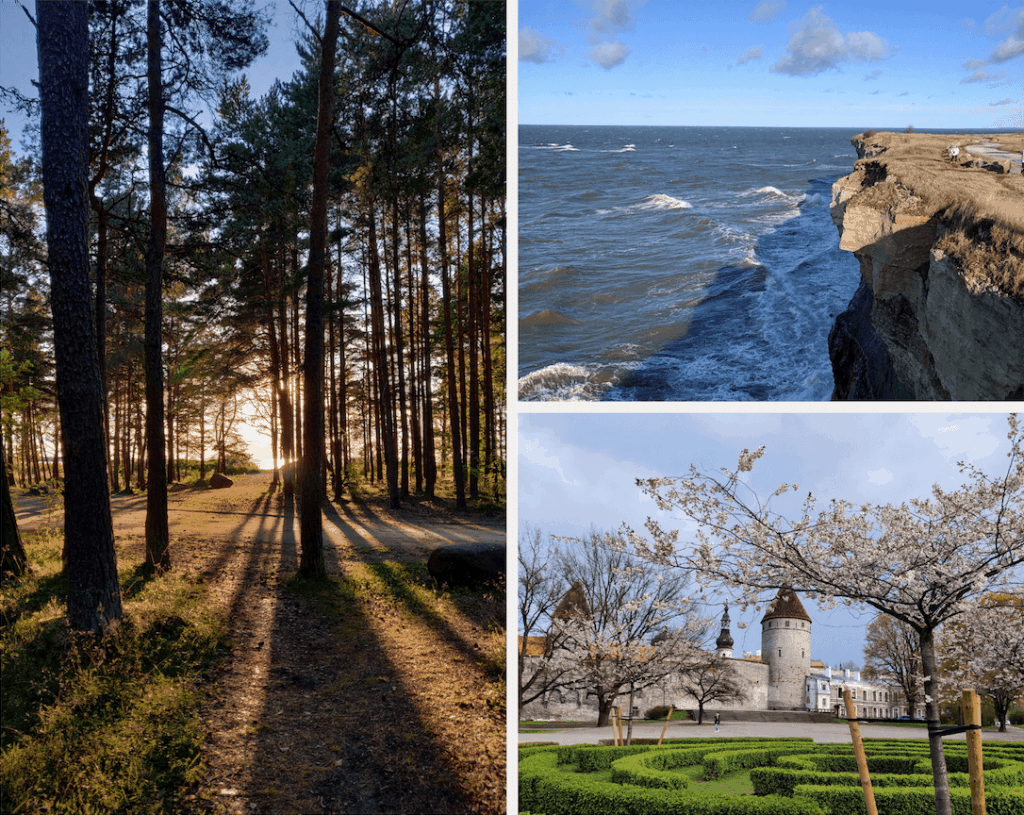 People are friendly even if you don't know the language. They try to help you even if you can't speak the same language as each other.
It is easy to get a mortgage with nice conditions, and real estate prices are still not too high (but they are rising). You can get a decent apartment near the centre for 150-200k euro—which is astonishing compared to Amsterdam or Berlin, for example.
Healthcare is not top-notch, but it is decent. You need not wait 6-12 months like in other countries, but sometimes the waiting period might reach 1-2 months. If you don't want to wait, private healthcare is available. The prices are not too high. Regular hospitals are good and well maintained. All your history is tracked in the system, including your tests, prescriptions etc.
It is easy to establish your own small (or large) business here. It is extra easy, really.
Summer is fantastic! In June, there are no nights at all. We go to the beach and chill there till 1 or 2 am without noticing it is late.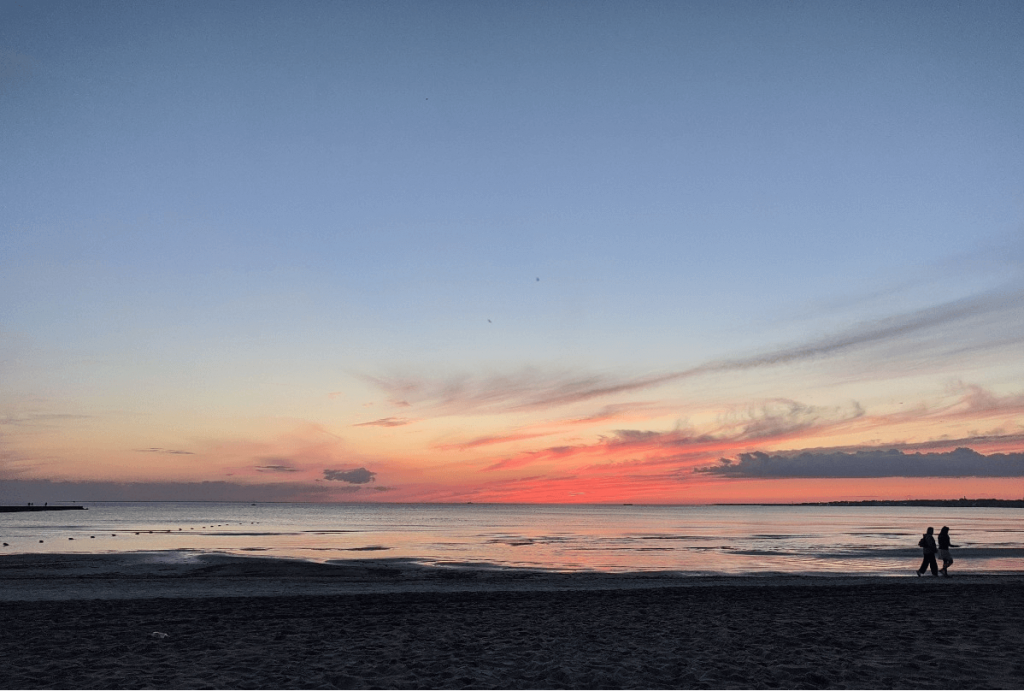 The city is not very big, so commuting doesn't take too much time. I don't even check the traffic before going somewhere by car. You can find everything you need. Given the number of inhabitants, there are a lot of places to experience fine dining, cocktails or a nice beer. 
The city is very safe; you can walk at night without the risk of being stopped by someone who 'needs to make a call from your phone'.
These are just some things I enjoy here. I was skeptical about Tallinn before moving here, but now I can say it was the right decision.
The winter is dark here though. I'm okay with it, but it is still a point worth mentioning. The days are short and the nights are long. The weather might be too harsh, but a glass of glögi helps. Also, due to the city's size, you might face a situation when it is hard to find something you want to immediately buy. You can always order and wait for delivery, but not on the same day. You won't find the cuisine from the entire world inside one city either, as you can in Berlin, for example.
Another point for me is the connectivity with other countries. You can travel easily to Scandinavia, even by car, or nearby to Latvia and Lithuania (which are nice as well), or inside Estonia (there are many places to go for sure) but that is it. Flight connections are not great, so you often need to stop over in Riga or Helsinki.
Some people will always find negative things in positive parts, but life is full of tradeoffs, and so far, Tallinn is among the best cities with a great ratio of tradeoffs. Meanwhile, Estonia is doing good, and many more things are appearing here.
Are you learning the local language? Or is knowledge of English enough to comfortably live in Tallinn?
Yes, I am learning Estonian, and I recently finished my A1 course. I picked up some basic words easily in the first few months I lived here and it is easy to speak in shops, for example. My wife has already finished level B1.
Inside Tallinn, you do not need Estonian to live for years. A lot of services are available in English. You can speak English in shops, restaurants or hospitals. Everything important is translated. Sometimes though, you might struggle when searching for something specific. There are a lot of options for Russian speakers here too. What is more important to know though is that it is unlikely that you will be treated badly if you do not speak Estonian.
Anyway, I would strongly suggest at least getting the basics of the language. No one can integrate into society without language; it is the central part of it. It is about culture. Estonian is difficult. It is among the most challenging languages, and you won't need it anywhere outside of Estonia. But it is not that hard to slowly learn it. People will appreciate you trying, and a few words in Estonian with your "weird" accent will make people respect you for that.
If you could give one piece of advice to anyone planning to relocate to Estonia, what would it be?
Do not expect that relocation to another country will solve your problems and give you everything right away. Also, do not just be a consumer in your new country—you also might have something to contribute. For example, if you feel that there is a lack of nice fancy cakes or drinks—just try to make it happen yourself. Estonia has a lot of room for you as a contributor! My advice isn't to not relocate, but the opposite—do not be afraid to take that step, it might be as wonderful a place for you, as it is for me. Regardless, no one is going to lock you here if you don't like it, but people will most likely try to help you settle in!
Curious to see what Software Engineer jobs in Estonia are currently on offer? Click here. Otherwise, you can browse through the list of all available IT jobs with relocation assistance offered to find the perfect fit for you.